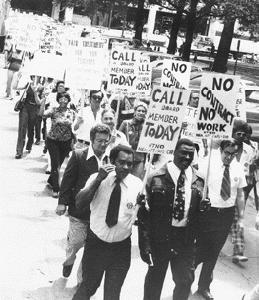 The Louisiana Federation of  Teachers received a charter from the American Federation of Teachers in 1965. Prior to that, an AFT local chapter existed in New Orleans as early as 1932.
LFT policy is set by an annual convention of elected delegates. An Executive Board that serves three-year terms and is elected by the convention implements policies and acts between conventions.  
Collective bargaining is the cornerstone of LFT's struggle to protect the rights of teachers and school employees. Efforts are underway in several school districts to win collective bargaining rights for educators.
A collective bargaining history:
* 1974 - United Teachers of New Orleans, under the leadership of President Nat LaCour, wins a collective bargaining election and negotiates the first real contract in the Deep South.
* 1977 -  Jefferson Federation of Teachers, led by Ed Fontaine, wins the state's second collective bargaining election.
* 1991 - St. Tammany Federation of Teachers and School Employees President Elsie Burkhalter wages a successful collective bargaining campaign for teachers, paraprofessionals, custodians and maintenance employees.
* 1993 - Bus drivers and aides, food service employees and school secretaries win collective bargaining rights in St. Tammany.